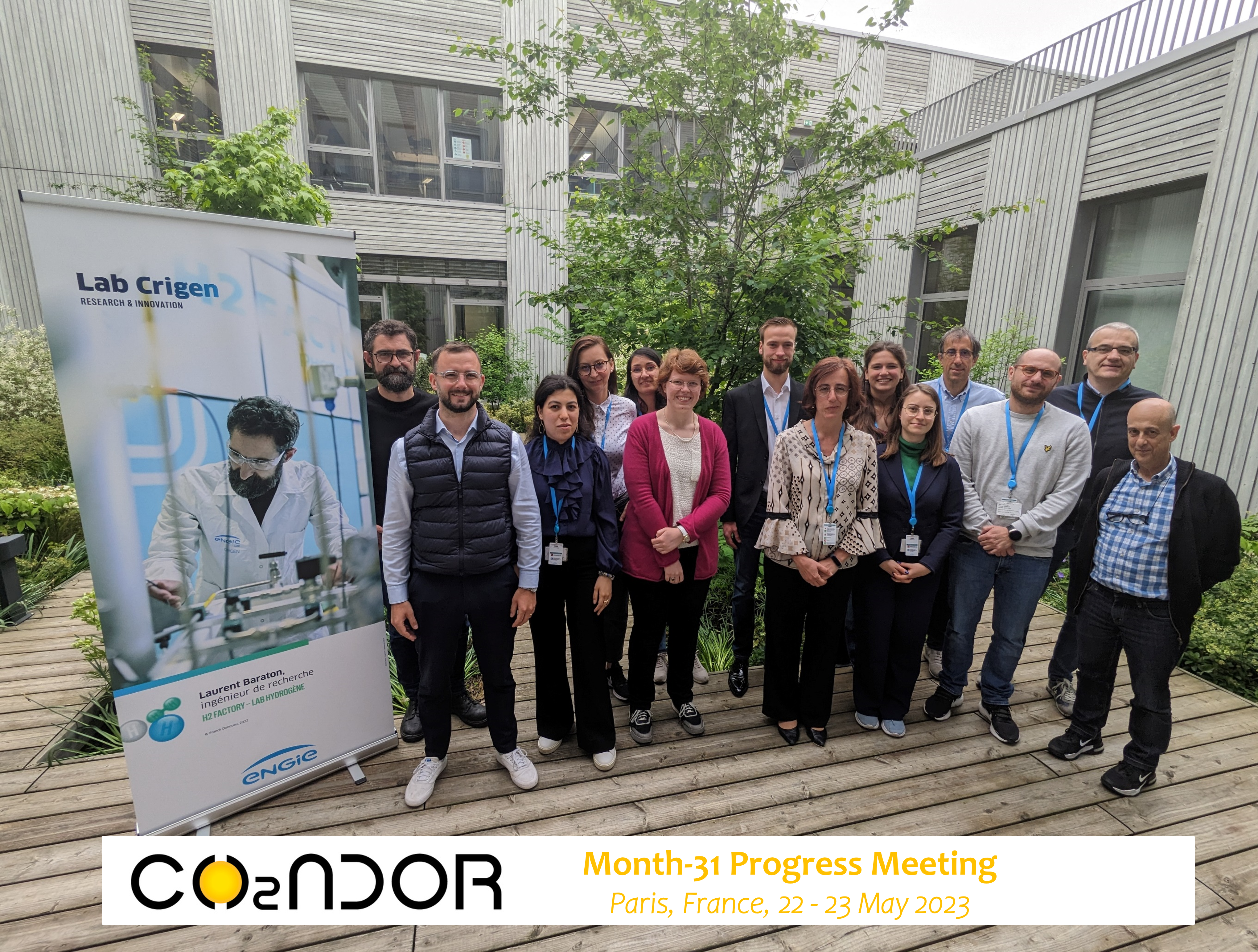 CONDOR Progress Meeting in Paris
On May 22-23, the CONDOR consortium met for a project meeting to share updates and align on next steps for building up a modular device for solar-driven production of energy. The all-round enjoyable visit was cordially hosted by ENGIE LAB CRIGEN at their premises in Stains, Paris. Those partners who could not make it in person were able to connect digitally so that discussions with the entire consortium could take place.
The two-days concise but vivid meeting gave the partners the possibility to get an overview of the current status of the development processes of CONDOR technology. Being at Month 31, it was crucial at this point to review the specific research activities performed for both device compartments and to discuss how the outcomes can be integrated. In the coming 6 months, the partners will work on the design and assembly of CONDOR prototype. In this regard, a draft of the P&ID integrated system was presented together with an outlook for the planned activities. Moreover, the consortium discussed the device validation in the testing site, which will be on the rooftop terrace of CNR-ISOF in Bologna, Italy.
In line with the discussion hold, the partners visited the laboratory of ENGIE Lab CRIGEN. Being known for its experience in the energy transition, devoted to green gases (hydrogen, biogas and liquefied gases), new energy uses and emerging technologies, the host showed the outcomes of various collaborations. In addition to that, they presented their work for CONDOR project related the photoelectrochemical cell system for the production of syngas by co(photo)electrolysis of CO2 and H2O.
A big thank you to ENGIE Lab CRIGEN for hosting the meeting, and thanks to all our partners for joining  in Paris and online for many discussions and important decisions!